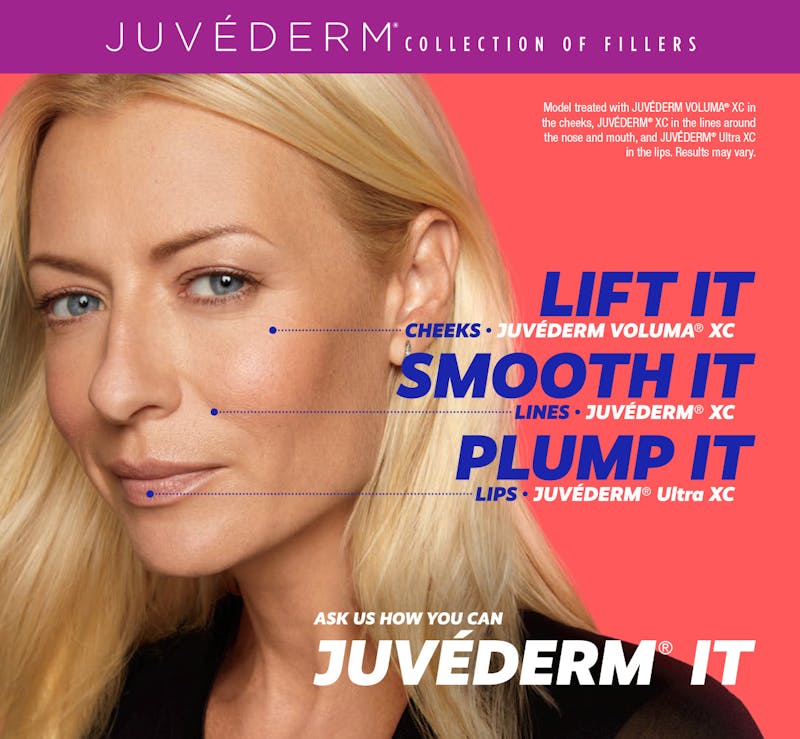 Juvederm Treatments
Juvederm treatments are easy cosmetic injections that restore volume and fullness to the skin while smoothing face wrinkles and providing fullness to the lips, reducing the indications of aging. The Juvederm line of hyaluronic acid (HA) fillers is FDA-approved and provides long-lasting results.
You'll see a considerable improvement in deep wrinkles, more rested eyes, bigger lips, lifted and flirtatious cheeks, and an overall more supple and radiant reflection within three days of your Juvederm injections.
What Is Juvederm Filler?
Our skin thins, becomes drier, and loses suppleness and collagen as we age. It is more likely to sag and wrinkle as a result of this. This problem is exacerbated by sun exposure, muscle mobility, weight loss, and (good ol') gravity.
Juvederm is an FDA-approved injectable gel filler that smooths face creases, restores youthful fullness to regions of reduced volume, and plumps the lips.
Filler treatments like Juvederm are one of the top five most prevalent nonsurgical cosmetic procedures in the United States, according to the ASAPS. Juvederm fillers were FDA-approved in 2006 by Allergan, the same company that makes Botox.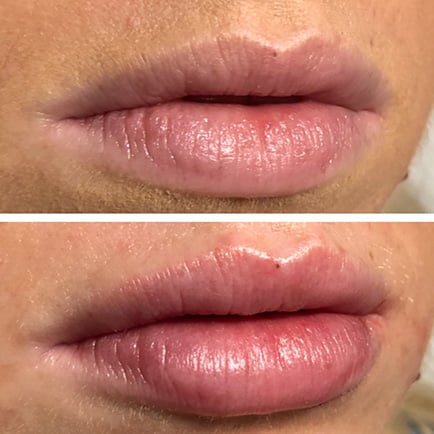 What Juvederm Fillers Do You Offer?
The whole Juvederm range of hyuralonic acid (HA) fillers is available at Integrated Aesthetics. Each filler is molecularly tailored to target specific locations. Our medical professionals will assist you in determining which Juvederm filler, or mix of fillers, will best accomplish your desired result.
Juvederm Ultra XC
Adds volume and definition to your lips while maintaining a natural appearance (after just one treatment). Ideal for giving definition and the look of moisture to the lips, vertical lip lines, and other tiny lines around the mouth.
Juvederm Ultra Plus
Corrects moderate to severe face wrinkles, deep nasolabial folds (parentheses lines), and marionette lines by restoring volume and fullness. It's also fantastic for accentuating the lips.
Voluma by Juvederm
Restores the volume, lift, and shape of your cheeks, which has been lost as we age.
Vollure Juvederm
Face creases and folds, particularly parenthesis lines around the nose and mouth, are addressed.
Volbella XC by Juvederm
For a velvety texture, smooths and softens delicate vertical lip lines (lipstick lines) around the mouth. Beginners looking for a small shift would love this.
How Does Filler Work?
Hyaluronic acid, often known as HA, is a naturally occurring molecule that gives the skin volume. It also aids in the hydration, suppleness, and youthful appearance of the skin. A modified version of HA is contained in the gel used in Juvederm fillers.
Filler is injected with an ultra-fine needle into the mid-to-deep dermis to replenish the hyaluronic acid that has been lost beneath the skin. It fills in the gaps (thus the word filler) and promotes your body to produce more collagen and elastin. For a youthful, natural appearance, this repairs structure, replenishes volume, and smooths wrinkles.
What Areas Does Juvederm Treat?
The most typical uses of filler are to smooth facial wrinkles, give volume to the lips, and lift and contour the cheeks. The following are the most typical filler treatment areas:
Deep wrinkles
Lips
Nasolabial or smile lines
Forehead
Crow's Feet
Cheeks
Chin
Jawline
Temples
Under-eye area or tear troughs
Hands
The following are the most common concerns our clients have about Juvederm filler injections:
Minimize smile and laugh lines
Correct a gummy smile
Filling hollow areas caused by aging or weight loss
Laugh lines (nasolabial folds + marionette lines)
Nasolabial folds are the lines from the nose to the corners of your mouth
Marionette lines (lines formed near the chin)
Adding or restoring lip volume
Eliminating vertical creases above/around the lips
Defining the lip border
Reducing dark circles beneath the eyes
Rejuvenating ear lobes
Smoothing deep scarring\
Providing youthful definition to chin and cheeks
How Does A Filler Injection Feel? Does It Hurt?
Lidocaine is present in all Juvederm fillers to ensure that your treatment is as painless as possible. According to your treatment plan, a qualified Viva practitioner will inject Juvederm into the tissue beneath the epidermis using a small needle. You will feel small pressure and dulled needle pricks during the therapy. It's a simple procedure with little to no downtime.
What Will I Look Like Post Treatment?
For the first 3-5 days after therapy, mild bruising and swelling are common. Lips bruise and swell more than other parts of the body, therefore they may take a bit longer to recover. Following your treatment session, you should be able to resume your daily activities right away.
When Will I See Results? How Long Will They Last?
After your Juvederm injections, you should see a noticeable difference within three days. All filler treatments are FDA-approved for a period of up to 12 months, with results lasting up to two years. The length of time that results last depends on how rapidly your body metabolizes the filler (everybody's body is different), as well as the type, quantity, and depth of the filler treatment.
Here's what you can expect from the best possible care.
Juvederm Ultra XC: Up to 1 year
Juvederm Ultra Plus: Up to 1 year
Juvederm Voluma: Up to 2 years
Juvederm Vollure: Up to 18 months
Juvederm Volbella XC: Up to 1 year
Juvederm Filler Near Me?
Integrated Aesthetics currently offers Juvederm filler injections in Spring, TX and The Woodlands, TX.