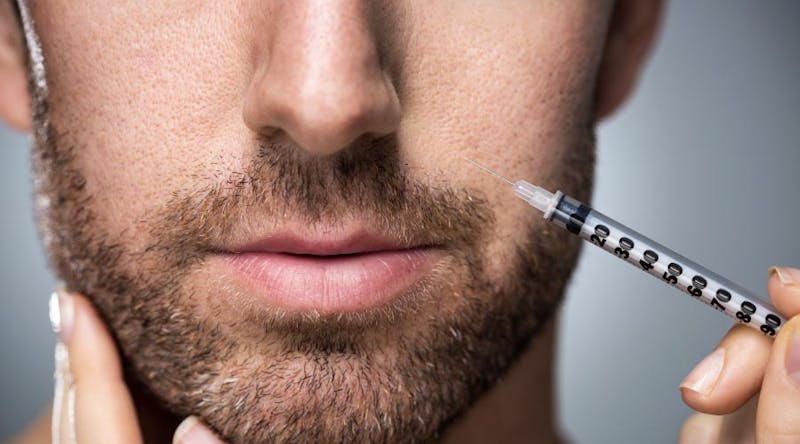 When many think of Botox they think that it is only something for women, but a new wave of sparked interest among men could prove otherwise. Because Botox has many benefits, such as diminishing wrinkles and lines on the face, more men are opting for this simple procedure. Though Botox for men is on the rise in popularity, here is what you should consider when trying to decide if this age-defying solution is right for you.
Do you know how Botox for men works?
Understanding the procedure behind Botox can help you decide if it is something that is right for you. Essentially, Botox is a drug that helps relax the muscles in your face, which can assist in reducing wrinkles and lines. It is injected into the neuromuscular tissues in your face with a needle, but you feel minimal pain, allowing for you to bounce right back into life.
Oftentimes, it can take anywhere from 24 to 72 hours for the full effects of the procedure to show. And unlike women, most men require more Botox in order for the procedure to work, simply because the muscles in their face are bigger. With regular Botox treatments and proper care, your face can stay looking young and healthy.
It is no surprise that looking youthful can help you land a new job or a promotion, because when you look your best, you also feel your best. If the wrinkles on your face get you down every time you look into the mirror, killing your self-esteem and confidence, it can take a toll on you emotionally. With Botox, you can reverse aging without surgery and almost immediately feel better about the skin you're in.
Though many think that Botox is only good for eliminating wrinkles on your face, it can actually help relieve you of symptoms related to other health issues, too. For instance, it can help with chronic migraines, excessive sweating and even muscle spasms, which can help eliminate daily discomfort. If you are interested in learning more about how Botox can help with these conditions, consult your local plastic surgeon.
If the answer to this question isn't "to feel better about myself," Botox may not be the right choice for you. Getting a Botox procedure done is a personal decision. But when you feel better about yourself, your mood can improve, which can lead to a happier you. Additionally, if you suffer from one of those other medical conditions we mentioned earlier, you might want to consider how that can improve the quality of your life.
Though many men are choosing to get Botox, there is still a population of people out there who will try to scare you away by rattling off rare or untrue side effects to this type of procedure. Speaking with your local plastic surgeon can help ease any anxieties you might have about the procedure. If you are choosing to get Botox because it will make you happy, then go for it!
Have you been considering Botox for men? Here at Integrated Aesthetics, now is your chance! To learn more about our Botox treatments in Spring, Texas, please contact us today.